In 1986, when mandatory use of tachographs within the EEC was introduced, the "Personal log" – sometimes rudely called the "book of lies" – lost its central importance as a means of verifying driving and rest periods. Since then, legal regulations have become increasingly strict and the demands made on tachographs have also expanded. Technical progress and, more especially, digitalisation mean that the ability to satisfy these requirements more effectively is improving all the time. Today different model versions with different operating periods are therefore in use, which in some cases are described in a variety of ways. Below we would like to present the correct nomenclature as a contribution to standardised language usage in the sector and therefore provide greater clarity for tachograph users.
A milestone: the first generation of the digital tachograph (2006-2019)
On 1 May 2006 the EU stipulated for the first time that electronic tachographs must be used: these were what are termed first-generation digital tachographs. In VDO's case these were DTCO models 1 to 3. This technology brought the successive replacement of analogue tachograph discs and made a considerable contribution to making them tamperproof.
The second generation of digital tachographs: the intelligent tachograph (2019-2023)
From 15 June 2019 the EU stipulated that second-generation digital tachographs must be installed in new vehicles, to apply to vehicles over 3.5 tonnes involved in cross-border traffic. This is to allow fair international competition and make the European road network safer. These second-generation devices are also called "intelligent" or "smart tachographs". Apart from extensive data recording and enhanced data protection via GNSS (Global Navigation Satellite System) positioning and DSRC remote communication (Dedicated Short Range Communication), it must be capable of transferring inspection data via roadside recording sensors. Appropriate models include the DTCO 4.0 from VDO and the SE5000 Connekt from Stoneridge.
The second version of the intelligent tachograph (from 2023 onwards)
From 21 August 2023 it will be mandatory to install the second version of the intelligent tachograph described above in new vehicles over 3.5 t. Future devices will also record crossing borders and, in particular, they will be able to better document cabotage journeys and the posting of drivers. VDO will supply the DTCO model 4.1 for this purpose.
Our chart provides you with a simple overview of the generations and versions of the digital tachographs and corresponding DTCO models: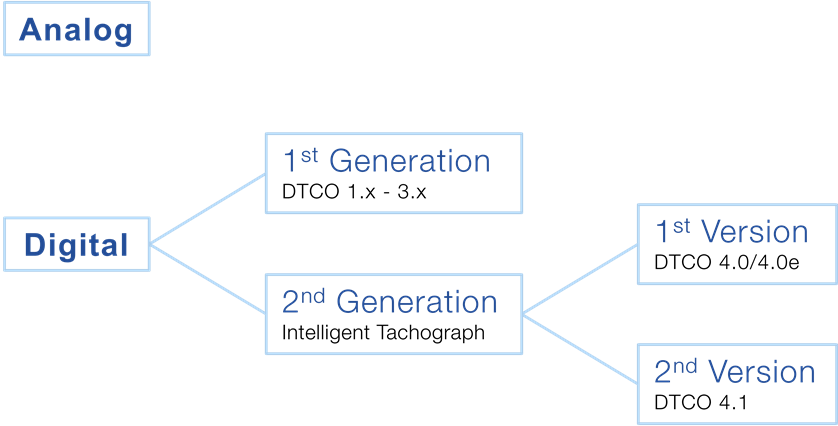 Compulsory retrofitting
In addition to the regulations requiring installation in new vehicles, from 2023 onwards new deadlines will also be set for existing vehicles. Our time schedule in the chart shows you when which vehicles for cross-border transportation of goods must be retrofitted with the second version of the intelligent tachograph: